Clicking a novel's cover or title will open up the novel viewer, which you can use to read the work.
On desktop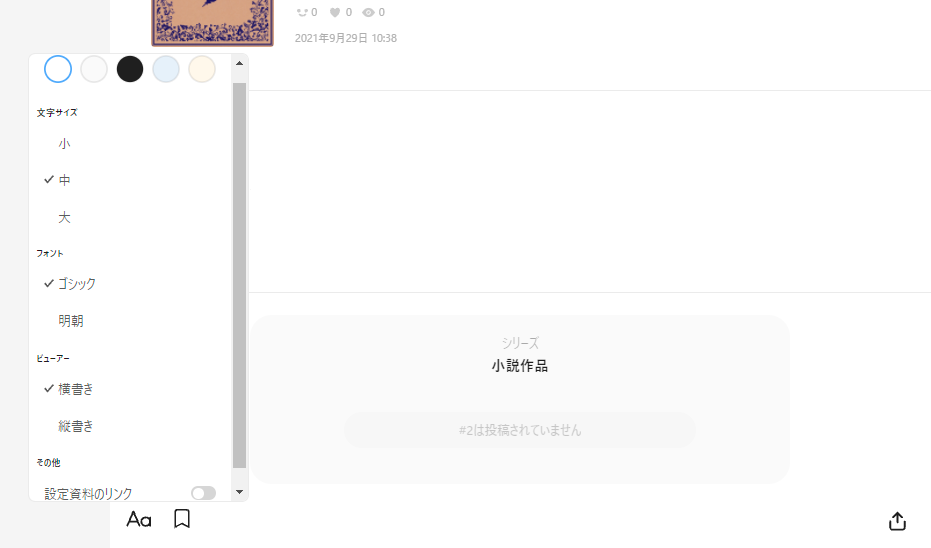 Clicking the "Aa" icon in the lower portion of the page will open the settings for:
■ Text color
■ Text size
■ Font
■ Viewer mode (vertical/horizontal)
■ Reference material links
On mobile


■ Vertical/Horizontal Orientations
You can change the orientation of the text from horizontal to vertical by clicking the four-line icon on the upper portion of the page.
If you'd like to change from the default text orientation (horizontal) to a vertical display, please use this icon.
■ Changing font
By clicking the "Aa" icon, you can switch between the Gothic and Mincho fonts.
■ Bookmarking
Bookmarks are called "Markers" on pixiv. If you click the ribbon icon at the top of the page or click "clip a bookmark", you'll be able to add a marker in the novel.
You'll be able to see bookmarked novels from the Markers page.
■ Changing other viewing settings
If you click the ・・・button at the top of the page, the following settings will display.
・Theme: changing the background color
・Text size
・Spacing
・Others: You can display reference materials by enabling "Reference material links". Please go here for more details.
■ Flipping pages
For novels that have more than one page, you can tap "Next" and "Back" to change pages.